Investors
January-September 2023
Interim Report
Kemira is a global leader in sustainable chemical solutions for water intensive industries. We have strong market positions in the two segments where we operate, Pulp & Paper and Industry & Water. With over 100 years of history and chemistry expertise, our products help our customers to improve their product quality, process and resource efficiency.
Kemira's annual turnover in 2022 was around EUR 3.6 billion with over 50% of revenue coming from products that enable better resource-efficiency for our customers. With a solid track record in profitability improvement, we are increasing focus on profitable growth in the future. Sustainability is the cornerstone of Kemira's strategy and biobased products will play an important role in Kemira's future growth.
Kemira as an investment
Kemira's exposure to water
Kemira serves water-intensive industries, and our solutions help make more clean, safe water available to everyone. Every year, 21 Bm3 of water is treated with the help of Kemira's chemistry – an amount which is comparable to the annual water consumption of over 370 million people.
Q2/2023 Key figures (EUR million)
| | |
| --- | --- |
| Revenue | 840.1 |
|  Operative EBITDA | 151.0 |
|  Operative EBITDA, % | 18.0% |
|  Operative EBIT, % | 12.0% |
OPERATIVE EBITDA FY 2022:
16.0%
FY2021: 15.9%
REVENUE FY 2022:
€3.6 B
FY2021: EUR 2.7 BILLION
Press Release
Latest press and stock exchange releases
All News & Releases
January – June 2023 Half-year Financial Report:
Strong performance in Industry & Water compensated for soft pulp and paper market
Mikko Pohjala, Head of Investor Relations of Kemira commenting briefly on Kemira's Q2 2023 results.
See also Reports and presentations
Reports
Kemira's Annual Report 2022
The report consists of Annual Review, Sustainability Report, Corporate Governance Statement and Financial Statements.
Investor contacts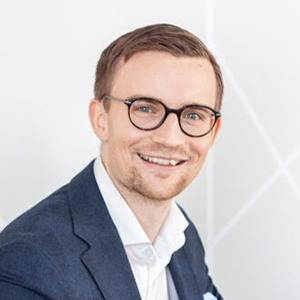 Mikko Pohjala
Vice President, Investor Relations
Helsinki, Finland
Tiina Huoponen
Investor Relations Specialist
Helsinki, Finland