Key figures
| | | | | | |
| --- | --- | --- | --- | --- | --- |
| EUR million  | 2020 | 2019 | 2018 | 2017 | ​2016 |
| Revenue | 2,427 | 2,659 | 2,593 | 2,486 | ​2,363 |
| Operative EBITDA | 435.1 | 410.0 | 323.1 | 311.3 | ​302.5 |
| ​Operative EBITDA, % | 17.9 | 15.4 | 12.5 | 12.5 | ​12.8 |
| EBITDA | 413.2 | 382.3 | 314.8 | 282.4 | 284.2 |
| EBITDA, % | 17.0 | 14.4 | 12.1 | 11.4 | 12.0 |
| Operative EBIT | 237.7 | 224.0 | 173.8 | 170.3 | 170.1 |
| Operative EBIT, % | 9.8 | 8.4 | 6.7 | 6.9 | 7.2 |
| EBIT | 215.9 | 194.4 | 148.2 | 141.4 | 147.0 |
| EBIT, % | 8.9 | 7.3 | 5.7 | 5.7 | 6.2 |
| EPS, EUR | 0.86 | 0.72 | 0.58 | 0.52 | ​0.60 |
| Dividend/Share | 0.58* | 0.56 | 0.53 | 0.53 | ​0.53 |
| ROCE, %* | 11.0 | 9.7 | 8.3 | 8.0 | ​8.6 |
| Cash flow from the operating activities | 173.3 | 386.2 | 210.2 | 205.1 | ​270.6 |
| ​CAPEX, excl M&A | 195.6 | 201.1 | 150.4 | 190.1 | ​212.6 |
| Gearing, % | 63 | 66 | 62 | 59 | ​54 |
| Personnel at year-end | 4,921 | 5,062 | 4,915 | 4,732 | ​4,818 |
*12 month rolling average
**Dividend will be paid in two installments of EUR 0.29. First installment's pay-out day was April 8, 2021. The Board of Directors will decide the record date and the payment date for the second installment at its meeting in October 2021. The record date is planned to be October 28, 2021, and the dividend payment date November 4, 2021, at the earliest.
Since some figures are rounded, the sum of individual figures may deviate from the presented sums.​
Strong cash flow
Cash flow from operations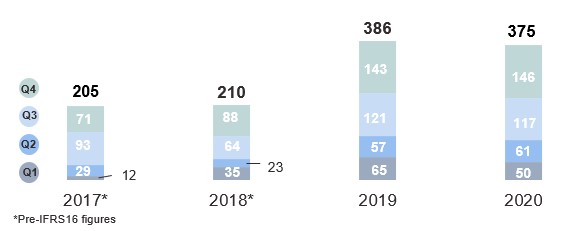 Capital expenditure excl. acquisitions