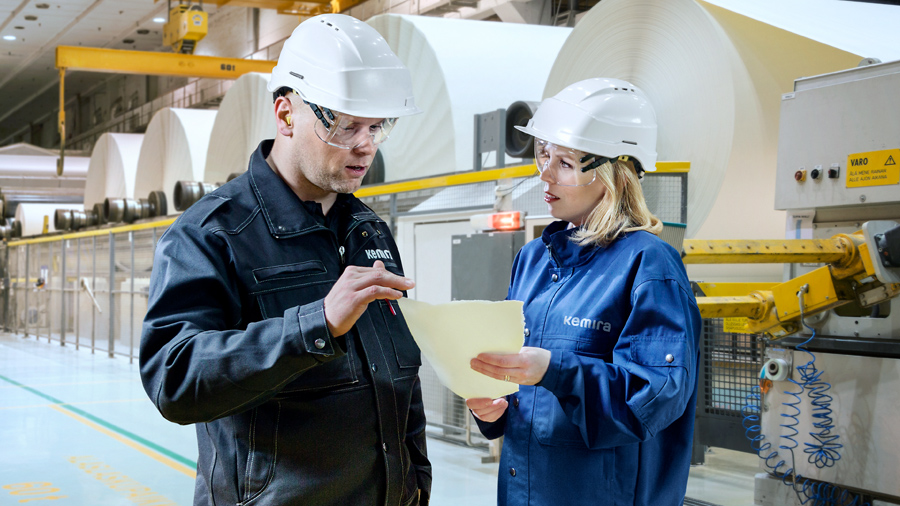 Total Chemistry Management
Start-up
Start-up
Smooth, successful startups require a combination of expertise in chemistry and deep knowledge of the mill's processes. Kemira works closely with your mill team to get the best results and through this strong partnership ensures that your machine reaches the product quality and productivity targets you set as soon as possible.
The desired quality from the start
Although starting up a new machine is a significant investment, Kemira will provide everything you need to guarantee the process goes smoothly. With Kemira TCM, we take care of the chemistry for you. We handle your applications, supply the full scope of chemicals, and provide startup expertise. We'll work with you to ensure your new machine is quickly operational and profitable.
TCM also includes Kemira KemConnect™ , our digital solution for smart process management. KemConnect helps you reach your desired quality faster by providing real-time information and expertise for the optimal dosing. It also provides continuous monitoring and reporting on the performance. Kemira TCM is the easiest way for you to reach the desired quality – and we'll get you there at maximum speed.
Optimization
Optimization
We believe it's always possible to improve the performance of paper and board machines. Kemira has expertise in everything from pulping to coating, finishing and printing, and we combine it with our new innovations to help you continuously optimize your production processes.
Business as usual is bad business
When your paper or board machine is up and running and things just work, the tendency is to keep doing business as usual. But from an efficiency optimization point of view, business as usual can be bad for business.
With Kemira TCM, we can help you improve your machine efficiency through continuous process optimization. The process of setting targets is the key to TCM partnerships because it ensures that the whole team works towards the same clearly defined goals.
TCM also includes Kemira KemConnect™ smart process management, which enables us to continually monitor your chemistries and help you increase process efficiency and machine speed, and reduce costs. As the single supplier for your machine we can optimize the whole papermaking process instead of just single applications, as is case when several chemical suppliers are involved. In addition, we will keep you up-to-date with the latest market-leading products and technologies, and help you understand how they can improve your efficiency and end product quality.
Conversion
Conversion
Paper and board machine conversions are a challenging task and demand complete re-optimization of your chemistry applications. With our knowledge of all phases of the paper machine lifecycle, Kemira will help make sure that your conversion delivers optimum results.
New production brings new quality parameters
Converting a machine and tuning it to meet new quality parameters requires extensive knowledge of the papermaking process. With Kemira TCM, you get the full scope of chemicals from a single supplier, the best practice for your applications, as well as service and technical support, to meet the targets for your converted machine.
TCM also includes Kemira KemConnect™ , for monitoring and analyzing your chemistries. By combining the data provided by KemConnect with our unique expertise, we can optimize your new application chemistry and get your machine up and running in the shortest time possible. We'll support you every step of the way to ensure it meets your new quality, productivity, and performance targets, and that your new product meets all the required standards, from strength to hygiene.
What TCM offers
Full scope chemical supply
The complete pulp and paper chemistry portfolio.
With TCM, you get all the chemistries you need from a single, responsible supplier. This makes sourcing chemicals easier and more reliable, and ensures that your product supply is sustainable, too. And we are the only company which offers the full range of chemicals needed for the entire pulp- and paper-making process.
Committed to research & development
New innovations in pulp and paper chemistry.
At Kemira, we have pulp and paper at the core of our business and we continually invest in R&D to bring new innovations to market. With R&D centers on three continents, we're constantly working to improve resource and business efficiency. And with Kemira TCM, you get access to our leading-edge technologies and innovation capabilities, too.
The power of partnerships
We have great partners and together we boost your business.
Our R&D cooperation with other leading companies like Valmet gives us unparalleled insight into emerging trends and needs in the pulp and paper industry. With this wider view, we use our expertise and resources to innovate more quickly on behalf of our customers.
Worldwide technical service
Application expertise always available.
Whenever you need specialist help, Kemira can offer you worldwide support. We have highly trained experts throughout our global network who can come to your facilities and assist with startups and conversions, process optimization, and with any chemistry application you need.
On-site support
Dedicated service engineers.
In addition to technical support, we can also provide you with dedicated on-site service engineers. They'll work on your site to take care of your applications and troubleshooting for you. This means that Kemira will take care of your chemistry, while you focus on running your mill.
A higher level of performance
Innovation and application expertise.
With TCM, we can help you reach your quality and productivity targets. We work with you and use our extensive expertise in all areas of pulp and paper production to give you the best technical service and the best advice available.
Reliable, responsible logistics
The best supply chain in the industry.
Our logistics network guarantees you a reliable chemical supply, worldwide. We also source our raw materials responsibly. With our Supplier Performance Evaluation program, we assess our suppliers for the accuracy of price and quantity, delivery compliance and quality claims, as well as conducting sustainability assessments, and ensuring they meet our strict requirements for responsible business conduct.
TCM is powered by smart process management
Technology for continuous monitoring and improvement.
Kemira TCM comes with our Kemira KemConnect™ solution for smart process management, giving you real-time process monitoring and diagnostics. With 24/7 awareness, we can ensure the best possible management of your chemistry applications at all times.
Want to hear more about TCM?
Harri Eronen
Senior Vice President, Commercial, Pulp & Paper, EMEA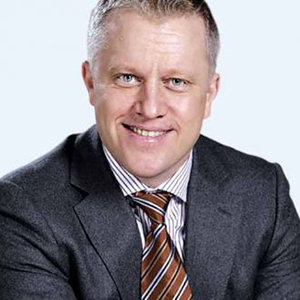 Nichlas Kavander
Senior Vice President, Commercial, Pulp & Paper, APAC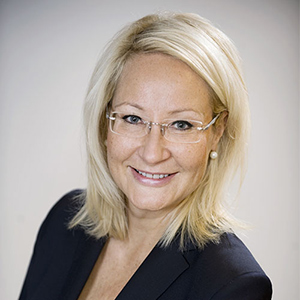 Tuija Pohjolainen-Hiltunen
Senior Vice President, Commercial, Pulp & Paper, Americas