6/16/2022
Why invest in Kemira?
Reasons to invest

Strong profitability improvement track record
Focus on profitable sustainable growth. Operative EBITDA margin 15.9% and operative EBIT 8.4% in 2021.

Attractive dividend
Competitive and over-time increasing dividend. The dividend for fiscal year 2021 is EUR 0.58 per share and be paid in two installments of EUR 0.29 in April and November.

Sustainability at the core of strategy
Kemira will become the leading provider of sustainable chemical solutions for water-intensive industries.
Read more about reasons to invest in Kemira:
Strong profitability improvement track record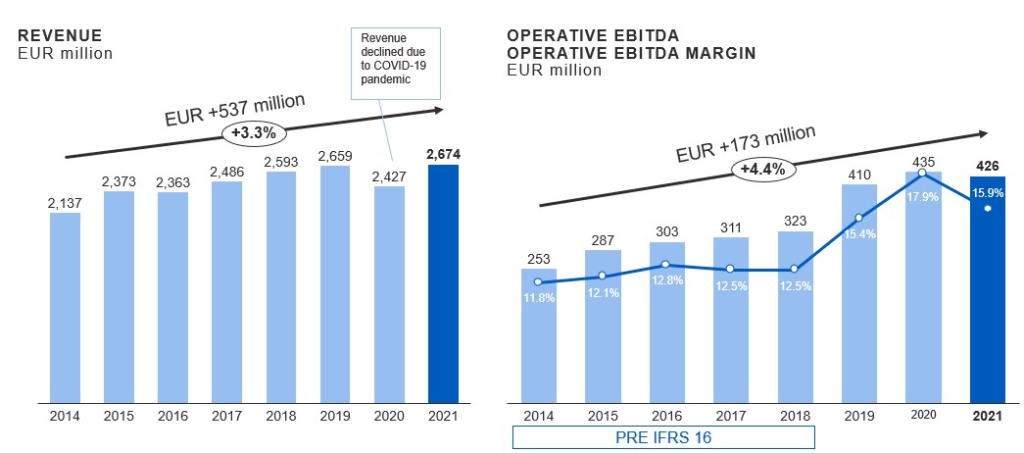 Attractive dividend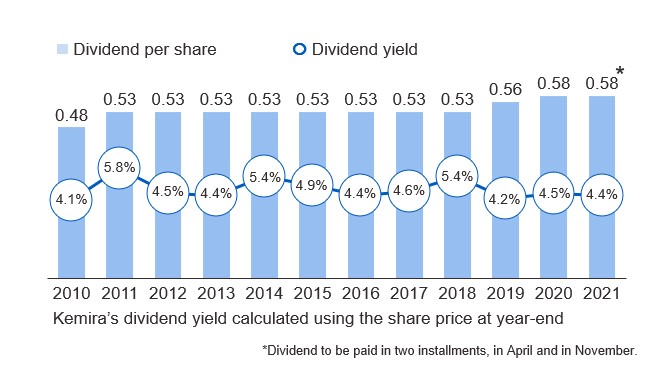 Sustainability at the core of strategy
FIVE THEMES AS SUSTAINABILITY FOCUS AREAS
SAFETY
We prove that a safe business is a sustainable business. Safety of people, products and processes is the foundation of everything we do.

PEOPLE
Our employees drive our sustainability transformation. A diverse and inclusive culture enables us all to bring our best selves to work every day.

WATER
We believe in clean water and sanitation for all. Our actions set the example for world class water management

CIRCULARITY
We set sustainability at the center of every design. Our sustainable chemistry and digital solutions accelerate the circular- and bio-economies

CLIMATE 
We reduce our climate impact throughout our value chain. Clean energy and processes will support our ambition to be carbon neutral by 2045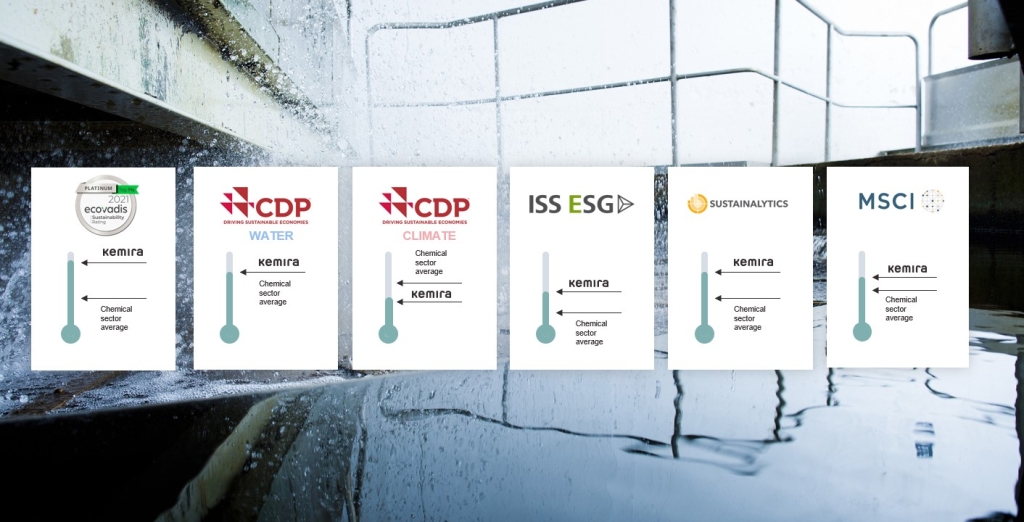 KEMIRA HAS AMBITIOUS CLIMATE TARGET AND COMMITS TO SCIENCE BASED TARGETS INITIATIVE
Kemira has ambitious target for significant reductions in its greenhouse gas (GHG) emissions by the year 2030 in line with the Science Based Target initiative (SBTi)*. Kemira commits to 50% cut in the emissions from its own operations (scope 1 and 2 emissions**) by 2030, compared to a 2018 baseline. This target is in line with limiting global warming to 1.5°C, which is currently the most ambitious criteria for setting science-based targets.
Kemira's scope 1&2 emission reduction ambition increases significantly from 30% 2030 target to 50% 2030 target. Furthermore Kemira commits to developing a quantified near-term scope 3 target within the timeframe set by the Science Based Target initiative framework. Kemira will submit these updated targets to be validated by the SBTi.
Read more on the Press Release of June 15, 2022
*)Science Based Targets initiative (SBTi), a partnership between CDP, the United Nations Global Compact (UNGC), the World Resources Institute (WRI) and the World Wide Fund for Nature (WWF), drives ambitious climate action by enabling companies to set science-based emissions reduction targets.
**) Scope 1, 2 and 3 emissions as defined by the Greenhouse Gas Protocol. Scope 1 and 2 cover the emissions related to our own production. Scope 3 includes all other relevant emissions throughout the value chain.
Strong market positions
Kemira has strong market positions in its chosen segments, Pulp & Paper and Industry & Water.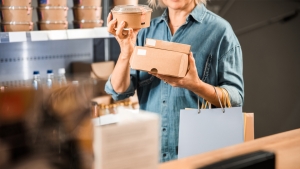 PULP & PAPER
End-markets: pulp, packaging, tissue, printing and writing papers
Kemira's market position: #2, estimated market share ~16%
Kemira's competitive advantage:
• Chemical expertise
• Long-customer relationships
• Broad offering for all Pulp & Paper applications
• Large operator offering delivery reliability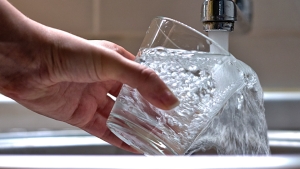 INDUSTRY & WATER
End-markets: municipal water treatment, industrial water treatment, oil & gas applications (shale, chemical enhanced oil recovery, oil sands tailings), mining
Kemira's market position:
• Water treatment: Kemira's market share ~30% in coagulants and 20% in polymers in EMEA and North America.
• Oil & Gas: Kemira's market share 20% in shale polymers
Kemira's competitive advantage:
• Strong market share in water treatment in chosen geographic areas
• Large operator offering delivery reliability
• Tailor-made solutions in Oil & Gas applications